Reseña: The Unbecoming Of Mara Dyer por Michelle Hodkin
¡Hola Lectores!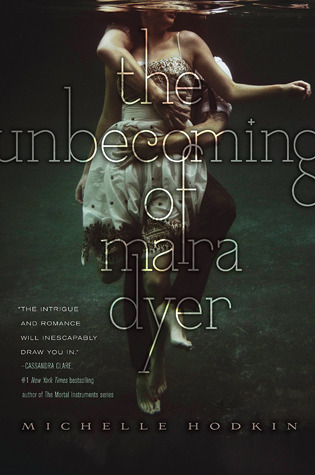 SINOPSIS:
Mara Dyer cree que la vida no puede ser más extraña que despertar en un hospital sin recordar cómo había llegado allí.
Pueda.
Ella cree que debe haber más que el accidente que tuvo
No puede recordar que mató a sus amigos y que la dejó extrañamente ilesa.
Ahí está.
Ella no cree que después de todo lo que ha pasado, ella puede enamorarse.
Ella está mal
The Unbecoming de Mara Dyer es un libro muy confuso. Uno no sabe lo que realmente le pasa al personaje o lo que estamos leyendo es una ilusión o no. El personaje principal tiene un montón de problemas mentales y el libro comienzan lentamente a dar razones de por qué el personaje principal es de esa manera. Es una lectura fácil y creo que cada adolescente pueden leerlo.
Desde mi punto de vista, el autor me tenía como un lector con palmas sudorosas y paranoico, en la manera que yo no sabía si el personaje principal estaba mintiendo o diciendo la verdad. El libro tiene flashbacks, pero se disfrazan como pesadillas. Puedo decir que me ha gustado este libro pero el final de la misma no era muy interesante, así que voy a ver más adelante, si sigo con esta trilogía.
3 DE 5 ESTRELLAS