Review: The Unbecoming of Mara Dyer by Michelle Hodkin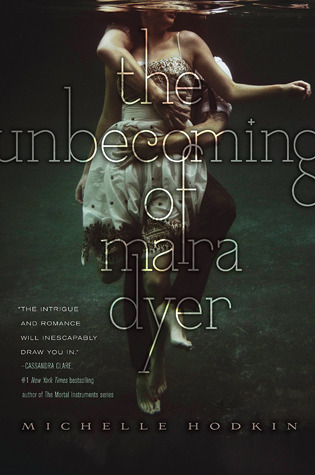 SYNOPSIS:
Mara Dyer believes life can't get any stranger than waking up in a hospital with no memory of how she got there.
It can.
She believes there must be more to the accident she can't remember that killed her friends and left her strangely unharmed.
There is.
She doesn't believe that after everything she's been through, she can fall in love.
She's wrong
CRITICISM:
The Unbecoming of Mara Dyer is a very confusing book. You don't know what really happens to the character or what doesn't happen. The main character has a lot of mental issues and the books starts slowly to give you reasons why the main character is that way. Is an easy read and I think every teenager can read it, it has no sexual theme.
From my point of view the author had me as a reader with sweaty palms and paranoiac, in the way that I didn´t know if the main character was lying or telling the truth,the book has flashbacks but they are dressed as a nightmares. I can say that I liked this book but the ending of it was not very interesting, so I will see later if I continue with this trilogy.
3 OUT OF 5 STARS